Mobile Restroom Solutions For Your Next Event
Outdoor Events
Many use our restrooms for award ceremonies that are conducted outside under a tent or in the open. Rentals at Company parties and picnics are always on the schedule. We also do parties at residences, churches and parks for those that need them. Attend special events for charities such as the Humane Society and you will see our units at work. Units also used at concerts and sporting events to provide additional facilities where needed. Check out the outside area at Gulf Stream Casino on your next visit by the track where these are used to provide customers with that additional first class accommodations when needed.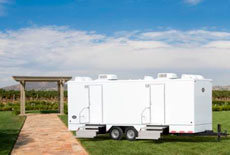 Re-modeling
Currently we have several units out to handle remodeling jobs at offices or business. At one of the State office where their current bathroom are going through a remodel the staff and visitors are taken care of as a trailer in excellent condition is being provided to handle their needs. We provide this service for offices, retail stores and restaurants so that their customers and staff can continue as usual. We are also providing trailers for the Airport during the construction for the Taxi , Limo and Bus Drivers on a 24 hour seven day a week schedule. We are sure that we can assist you as well.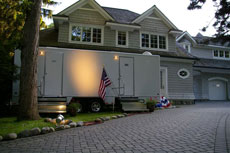 Weddings
This is one of the events we really work hard to make sure we get it right. We do not want this special day to have a negative remark due to the bathroom trailer we provide. We do everything possible to make sure we deliver well in advance and are gone prior to anyone knowing we where there. Usually do not come back to pickup until the following day as we do not want to interfere. We are always available though for any problems. We make sure everything is working, well stocked and odor free. It helps that the units are air conditioned as well as clean. The way we know that our service is appreciated is in the referrals or those that call back to use the trailers with another family member.